All articles
The Santos Scandal: A Deep Dive into Deception (Part 3)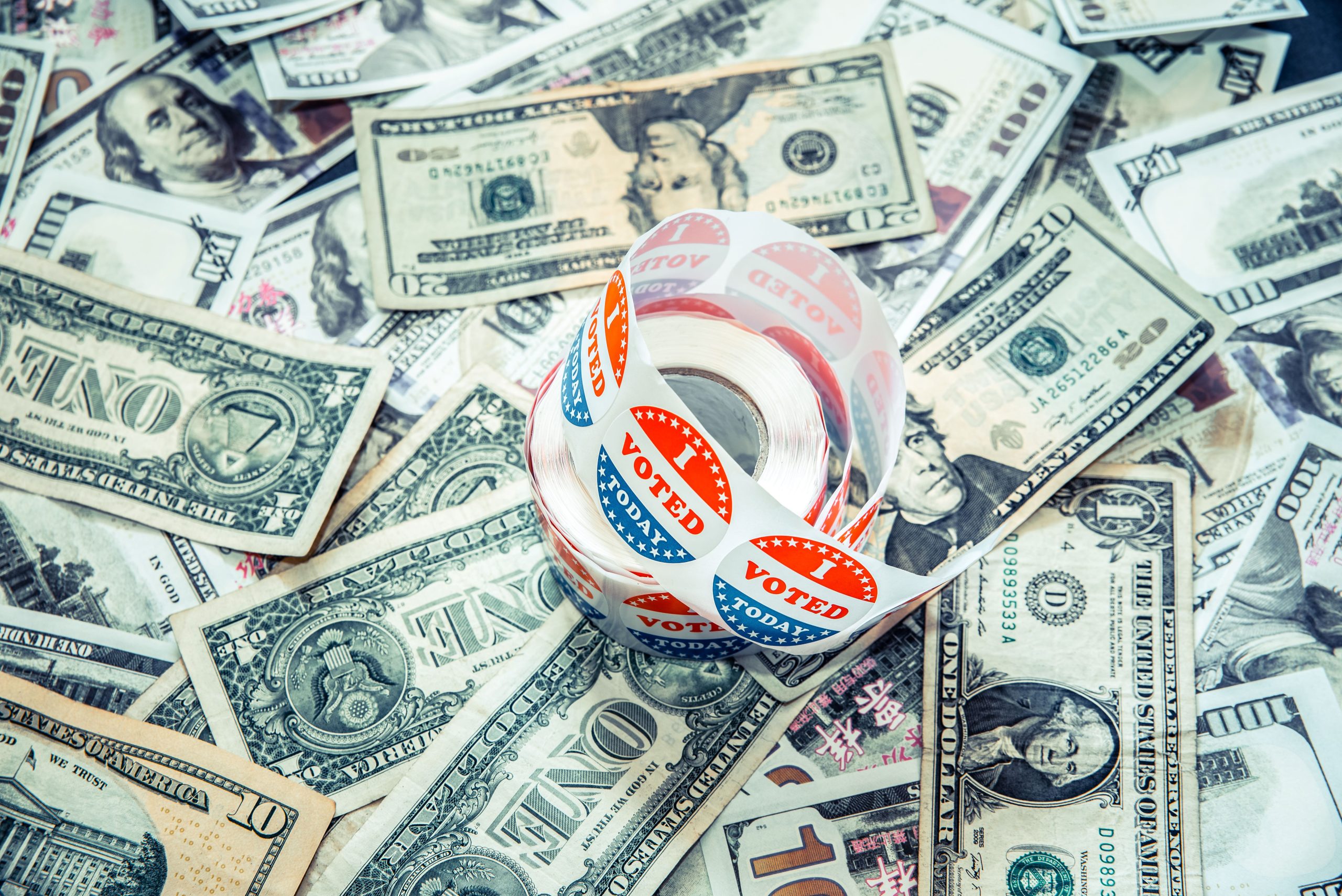 The first two posts regarding George Santos detailed how a thorough review of public records long before the November 2022 elections could have revealed falsehoods regarding Santos' claims of employment and education, and raised red flags about the origins of his sudden personal financial gains in 2022 and his corporate connections. This final post examines Santos' previous brushes with the law as well as allegations that he coached someone involved in a credit card skimming operation. It also explains new revelations about his activities and remaining questions about donations to his campaign and the origin of funds used to obtain his release from jail on a $500,000 bond paid by his father and aunt in May 2023.
Past Frauds & Red Flags
 In the wake of Santos' 2022 election, additional revelations about his past behavior, financial distress, and challenges with the law have emerged in more thorough public records scrubs.
In 2008, according to multiple media outlets, including Bloomberg, the BBC, Forbes and CNN, Santos engaged in fraud in Rio de Janeiro by stealing at least two checks and making fraudulent purchases for clothes and shoes worth $1,300. In May 2023, according to these news reports, Santos signed a plea agreement with Brazilian prosecutors to avoid prosecution, although details of the agreement remained under seal.
In 2014, 2015 and 2017 George Santos was accused in Queens Housing Court of failing to pay thousands of dollars in back rent on three properties.
In 2017 Santos was charged with "theft by deception" by the York County District Attorney's Office in Pennsylvania for writing several bad checks to dog breeders. The case, however, was later dismissed.
That same year, a Brazilian national who overstayed his U.S. visa, named Gustavo Ribeiro Trelha was arrested in Seattle, Washington, for possessing and using credit card skimming devices, who later named Santos as his tutor.
The complaint filed in the U.S. District Court in the Western District of Washington, summarized the scheme this way:

According to government investigators, Trelha was "skimming roughly 100 accounts per day" from a single ATM and described this is a sophisticated operation that they believed was "the tip of an iceberg of fraud…" The investigators noted that Trelha traveled from Florida to Washington to commit these offenses and was sending stolen credit card data overseas to associates. Trelha was convicted in 2017 and served time in prison.
In March 2023, through his attorney, Trelha sent a declaration to the U.S. Secret Service, Federal Bureau of Investigation (FBI), and the U.S. Attorney's Office in the Eastern District of New York, claiming that George Santos was the one who originally taught him how to engage in credit card skimming in Florida. Excerpts of Mr. Trelha's attorney's letter and Mr. Trelha's declaration are posted below: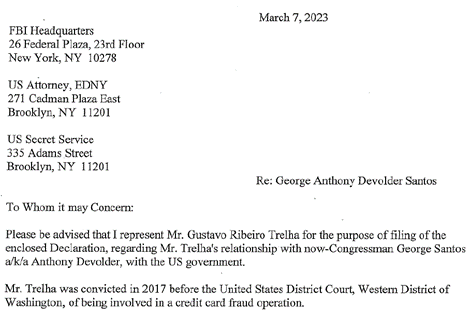 Mr. Trelha's declaration said, in part: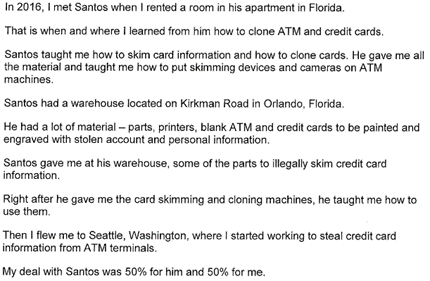 Santos' congressional office did not respond to questions about his relationship with Mr. Trelha or provide any comment in response to emailed questions about the other allegations and questions about the origins of his finances raised above.
 Campaign Donations
A much more detailed review of George Santos' donors could have been conducted long before the media first began to call attention to this issue, based on publicly available FEC data. Three weeks after the November 2022 election, the Daily Beast first reported that George Santos received financial backing from Andrew Intrater, an investment banker who runs Sparrow Capital in New York and is a cousin of Russian billionaire Viktor Vekselberg. A review of FEC data shows Intrater contributed a total of more than $47,000 to both Santos' 2020 and 2022 election bids, including to the George Anthony Devolder Santos (GADS) Political Action Committee (PAC). Intrater first made two separate donations to the Santos campaign in September 2020, more than two years before these donations were first reported by the media.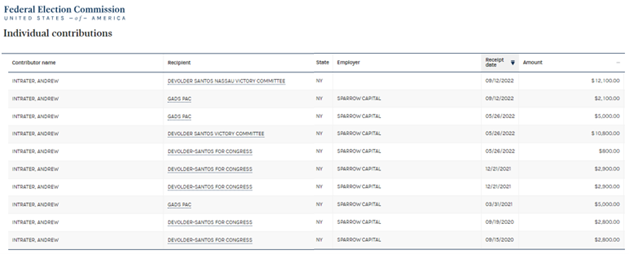 Intrater, is an American citizen born in New York. His cousin, Russian billionaire Viktor Vekselberg, is close to the Kremlin. In 1990, Vekselberg founded the Renova Group, a conglomerate with interests that include the oil, gas, and telecommunications industry. In 2018 and 2022, the U.S. imposed sanctions on Vekselberg and other Russian nationals in the aftermath of Russia's annexation of Crimea and its brutal attacks on Ukraine.
According to CNN, Intrater's attorney, Richard D. Owens, said in a statement that Andrew Intrater is listed as "Contributor #2" in the DOJ indictment against Santos, which alleges that Santos falsely assured "Contributor #2" that his donations would be spent on TV advertisements for his campaign. In fact, at least some of these donations were transferred to Santos' personal bank accounts, according to the indictment. In his statement to CNN, Intrater's attorney, said: "Andy is gratified that Santos will now have to answer in court for the many lies George told to Andy and so many other Americans."
Earlier this year, Intrater also reportedly told the New York Times that George Santos had convinced him to invest more than $600,000 in Harbor City Capital Corp. while Santos was employed at the firm and before the SEC filed its enforcement action against the company.  Intrater told the New York Times that he discovered later that he had been misled by Santos. Mr. Intrater's attornery did not respond to a request for comment regarding these issues.
Family Funds
Last month, new details were revealed when a judge in New York forced the public release of the names of the individuals who paid Santos' $500,000 bond for release in May 2023 after he was arrested due to the 13-count criminal indictment filed against him. Santos' father, Gercino Dos Santos who lives in New York, and his aunt, Elma Santos Preven, were said to have paid his $500,000 bond. However, public records indicate that neither appears to have many assets. His father appears to own no property in New York and Santos' aunt appears to own one property in New York, a co-op she purchased from another family member in 2006 for $170,000 in Jackson Heights, Queens – circumstances that add to other mysteries surrounding Santos's financial wherewithal.
More Investigations Underway
 Investigations are still underway by the New York Attorney General's Office and the Nassau County District Attorney. In addition, the bipartisan House Ethics Committee recently announced that it was expanding its inquiry into Santos to include allegations that he "fraudulently obtained unemployment insurance benefits." The committee also revealed that it has issued more than 30 subpoenas and more than 40 voluntary requests for information.
Although the records identified above were focused on George Santos, diligent research using records related to individuals, corporate officers, companies, or other entities can yield huge dividends. Conducting a comprehensive sweep of public records helps to identify red flags, ferret out blind spots, and highlight potential trouble spots before they spark scandals that can impact your political or financial bottom-line.
The Santos saga has proven to be a sterling example of how obvious cues should have been followed up, before – and not after – George Santos was hired into his office by voters in the November 2022 elections.