All articles
The Santos Scandal: A Deep Dive into Deception (Part 2)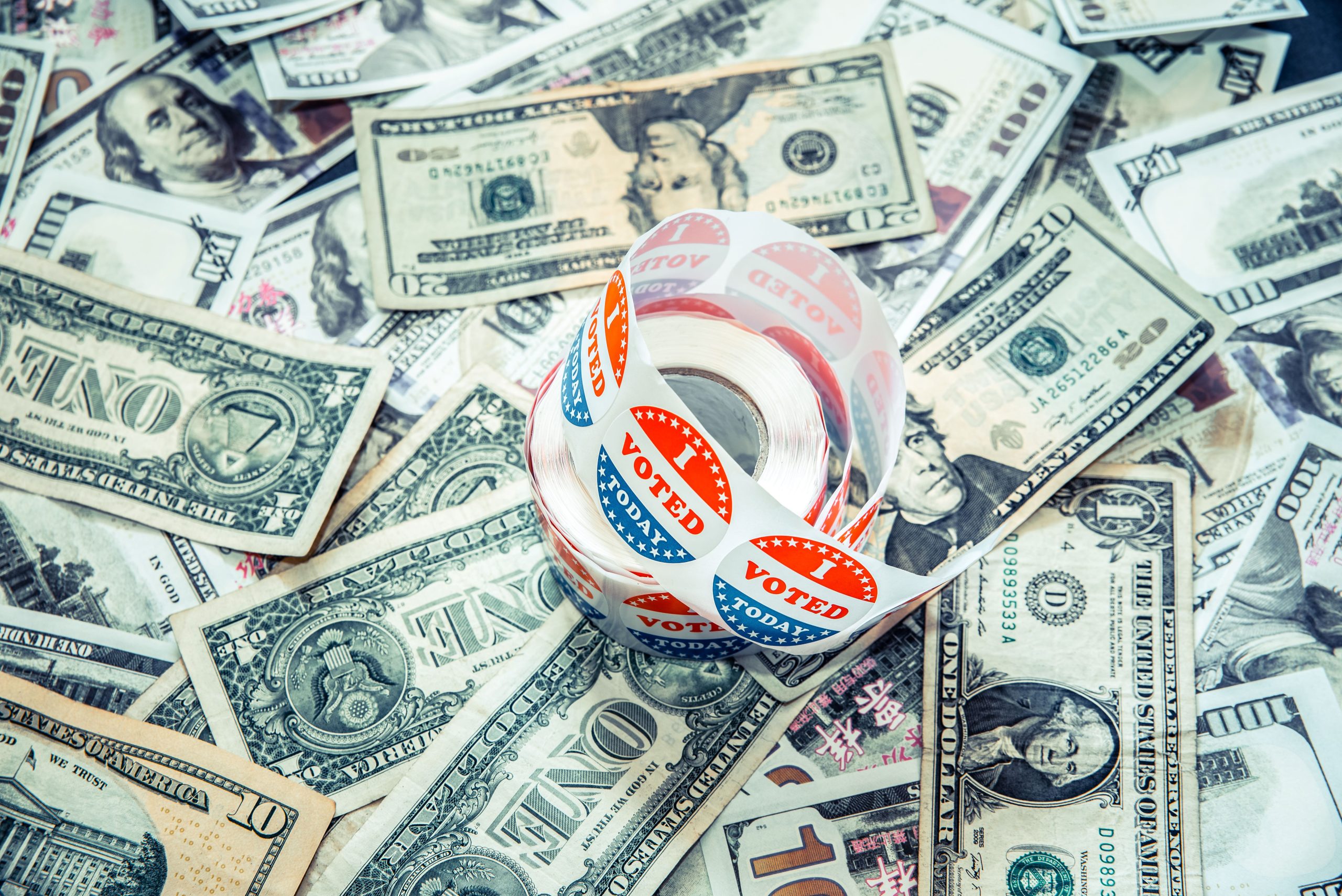 The first post in this series [The Santos Scandal: A Deep Dive into Deception (Part 1)] detailed evident false statements by George Santos about his employment history and education, as well as problematic information regarding his financial assets in 2022 and odd patterns in his congressional campaign's financial accounting. This post will examine how public records have revealed the questionable corporate ties Santos had while running for Congress.
The Company We Keep
Financial regulatory records at the state and federal level also waved a further series of red flags for anyone that might have looked. In January 2020, Santos joined Harbor City Capital Corp. as a Regional Director in New York. Harbor City's CEO Jonathan Maroney welcomed Santos in a press release. "I've known Mr. Devolder for several years professionally and have always had a lot of respect for how he conducts himself in business," he said. "When we had the opportunity to welcome him to our team I was delighted. He's a perfect fit." The press release included erroneous information from Santos about his previous employment at Goldman Sachs and CitiGroup. Santos also listed his new position at Harbor City Capital on his Twitter account.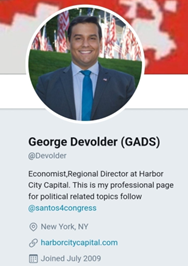 Harbor City Capital Corp. described itself as "an alternative investment manager specializing in the implementation of time-tested, proven arbitrage strategies to generate reliable yield from the high growth +$200B Internet advertising sector." The company made exuberant claims of high yields on individuals' investments.

Santos also touted claims of zero risk investments and hefty returns for those that invested in Harbor City Capital Corp. claiming an individual's principle would be "100% secured" by a Standby Letter of Credit (SBLC) held by major institutions. However, by early June 2020, some cracks in this visage were becoming publicly evident: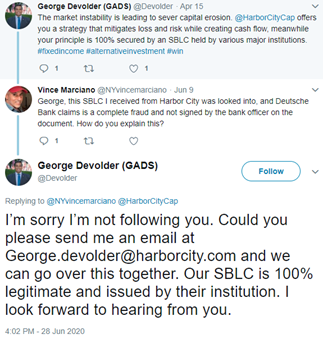 Regulatory scrutiny soon followed. On June 25, 2020, the Alabama Securities Commission issued a "cease and desist order prohibiting" Harbor City Capital Corp. and its CEO Jonathan Maroney "from offering or selling securities in the state." The commission found that Maroney and his affiliated companies were offering 18% annual returns on investments and the commission found that they "caused unrealistic claims of investment performance and unrealistic predictions of market profitability to be displayed on their web site in order to induce investors to purchase their securities in violation" of the law. The Alabama Securities Commission did not mince words in its press release regarding its cease-and-desist order against Harbor City Capital Corp.:

On April 19, 2021, the Securities and Exchange Commission (SEC) pursued its own actions against the company, filing an "emergency action to stop an ongoing, fraudulent Ponzi-scheme victimizing hundreds of investors across the United States" that was being perpetrated by Harbor City Capital Corp., its related entities, and its CEO Johnathan Maroney. The SEC alleged that starting in May 2015, or before, Maroney and the entities he controlled raised more than $17 million "through a series of unregistered fraudulent securities offerings…." and that "Maroney used investor money to enrich himself and his family, and to perpetuate the Ponzi scheme by making payments of fictitious returns to existing investors using other investor funds." He used part of the money to buy a Mercedes Benz, a waterfront home, and to pay more than $1 million in credit card bills, according to the SEC filing: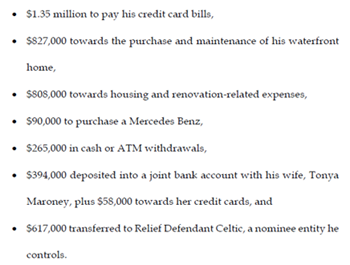 In April 2021, the same month the SEC issued its enforcement action against Harbor City Capital Corp., George Santos left the company. He has not been implicated in the Harbor City Capital Corp. case. Maroney was the only individual named in both the Alabama and the SEC suits.
Ties That Bind
Tracking corporate filings can provide critical insight into both business entities and individuals, as well as a window into who they have chosen as business associates. Several of the individuals that worked at Harbor City Capital quickly moved on after the SEC's April 19, 2021, enforcement action to start their own companies. In 2019 Jesse McMinn was hired as a videographer at Harbor City Capital Corp. Fifteen days after the SEC's action, he incorporated Red Strategies Video Inc. in Florida as its President. Paul Nicolini – the Regional Director of the Investment Professionals Divion at Harbor City Capital Corp.–incorporated Paul Nicolini and Associates Inc. on the same day. Red Strategies LLC, USA was also established at the same time.
On May 11, 2021, six days after these three companies were incorporated, George Santos established Devolder Organization LLC., a group that Florida Secretary of State records show was linked to five companies established by Harbor City Capital Corporation personnel. Three were established 15 days after the SEC filed suit against Harbor City Capitol Corp., and all three were administratively dissolved for failing to file their annual financial reports on the very same
day in late September 2022, two weeks after Santos filed his second financial disclosure report with Congress. Two of the other companies were voluntarily dissolved on January 25, 2023, after the New York Times published its initial investigative story on Santos. (The Devolder Organization also appears to have failed to file its annual financial report at the beginning of 2022 and became inactive in Florida. However, on December 20, 2022, it filed paperwork and was reinstated by the Florida Secretary of State's office. It is currently the only entity out of the five other companies listed below that still has an 'active' status, according to Florida Secretary of State records.)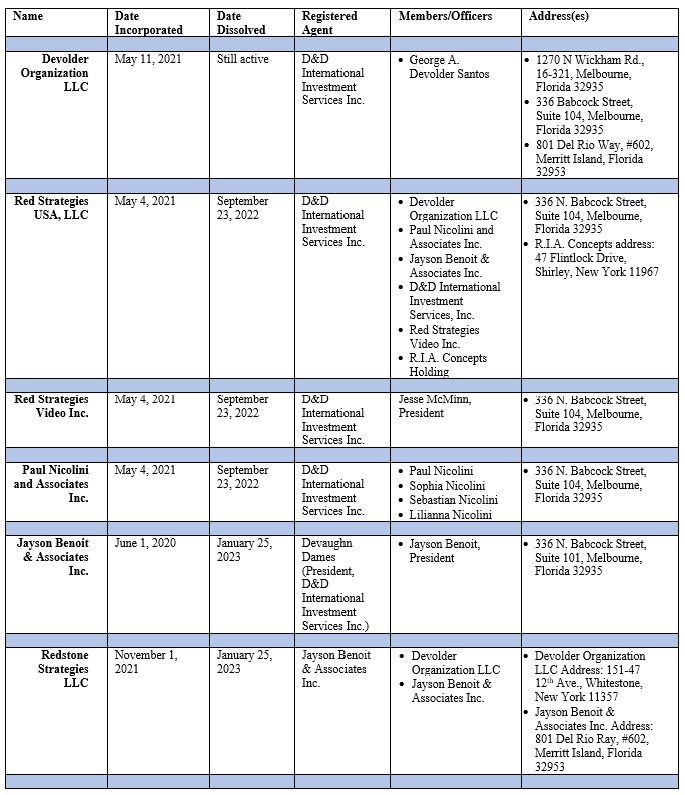 Connect the Dots
Santos kept company with interesting characters. The Redstone Strategies annual report filed in Florida on January 14, 2022, listed George Santos, Paul Nicolini, Jayson Benoit, Jessee McMinn, and Devaughn Dames as officers, all of whom worked at Harbor City Capital Corp. but none of whom were specifically named in the SEC's enforcement actions against the company and its CEO Jonathan Maroney.
In addition, one of the corporate officers of Red Strategies USA, LLC, R.I.A. Concepts Holding, provided its address as 47 Flintlock Drive, Shirley, New York 11967. That address is the home of Nancy Marks, who worked as a treasurer for both Santos' 2020 and 2022 congressional campaigns.
Interestingly, the Devolder organization was registered in 2021 by a claimed financial consultant named DeVaughn Dames, who served as a treasurer for another Republican candidate in 2022 Tina Forte (she lost). During the 2022 election cycle Tina Forte's campaign made 77 separate payments to Red Strategies USA, for a total of $110,320.05 under the rubric of "Digital Consulting and Fundraising" services. Red Strategies included Santos' Devolder Organization LLC, and others associated with Harbor City Capital Corp., as corporate officers.
In August 2019, Dames became the Chief Financial Officer at Harbor City Capital. Through his own company, D&D International Investment Services Inc., he ended up becoming the registered agent for five of the six companies cited above.
In 2015, D&D International Investment Services Inc. and Devaugh Dames were cited in a court case initiated by the Brevard County Tax Collector in Florida for owing nearly $3,000 in back taxes. Those taxes appear to have been repaid by July 2015.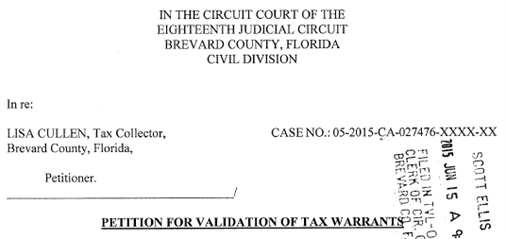 Last year, in July 2022, Credibly of Arizona LLC, a retail capital company, won two separate judgements in a lawsuit it filed against Devaughn Dames in the amount of $118,352.72 and $363.09 in a case that was brought in Arizona's Maricopa County Superior Court.
More recently, in March 2023, Wells Fargo sued Devaughn Dames' company D&D International Investment Services, Inc. for debt recovery to "foreclose a mortgage on real property" regarding its offices at 336 N. Babcock Street in Melbourne, Florida. This is the address provided for five of the six companies listed above. In 2009, Wachovia issued the original Note to D&D International Investment Services for nearly $1.2 million, but it was taken over by Wells Fargo when the two companies merged. Wells Fargo alleges in the suit that D&D has been delinquent on its payments and owes it a total of more than $400,000.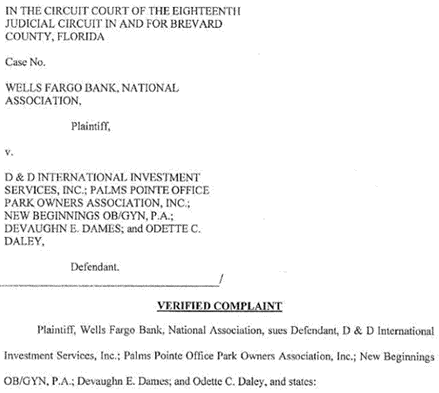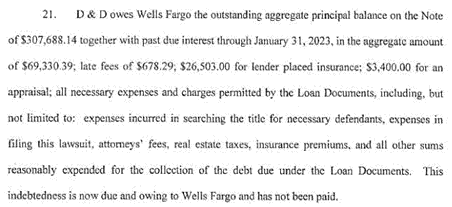 On May 23, 2023, the Eighteenth Judicial Circuit Court for Brevard County, Florida set a trial date of March 22, 2024, for this case.
Pulling business records, identifying corporate addresses, and compiling court cases can often help weave together a collage of the friends, colleagues, and business associates of the individual you are investigating. Our previous post revealed red flags about Santos' claimed employment, education, and finances. Our third and final post will highlight his previous brushes with the law and unresolved questions about the origin of his finances. Taken together, this information can help paint a clearer picture of the individual's character and potential avenues to pursue further.